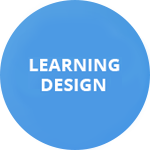 Right Content, Level, Format
Good learning content changes behaviour. We achieve that through great design:
We motivate and inspire with creative treatment of the content.
We keep it real for the learners; their jobs, their needs, their lives.
We weave assessment and feedback into the design, and can help with qualifications achievement along the way.