At Synapsys, we see learning as being about helping the learners to move from one stage of understanding to another. It is important for us to have a solid grip on what you hope to achieve through the learning intervention, so we can support it. 
Are we trying to make people aware of what they need to learn?

 

Do we want to help them develop new areas of competence?

 

Do we want to support them as they develop their existing skills to new levels?

 
Different approaches help learners at different stages on their learning journeys. 
Our goal-setting and design processes help us develop great solutions for your organisation and your learners. 
Stages on the learning journey 
"Ko ngā tāngata e noho ana i te take o taua maunga pakapaka ana i te wera o te rā, ko te tihi o te maunga e hūhia ana e te huka. 
The people living at the foot of that mountain are baked by the heat of the sun, while the summit of the mountain is covered in snow.:"[1]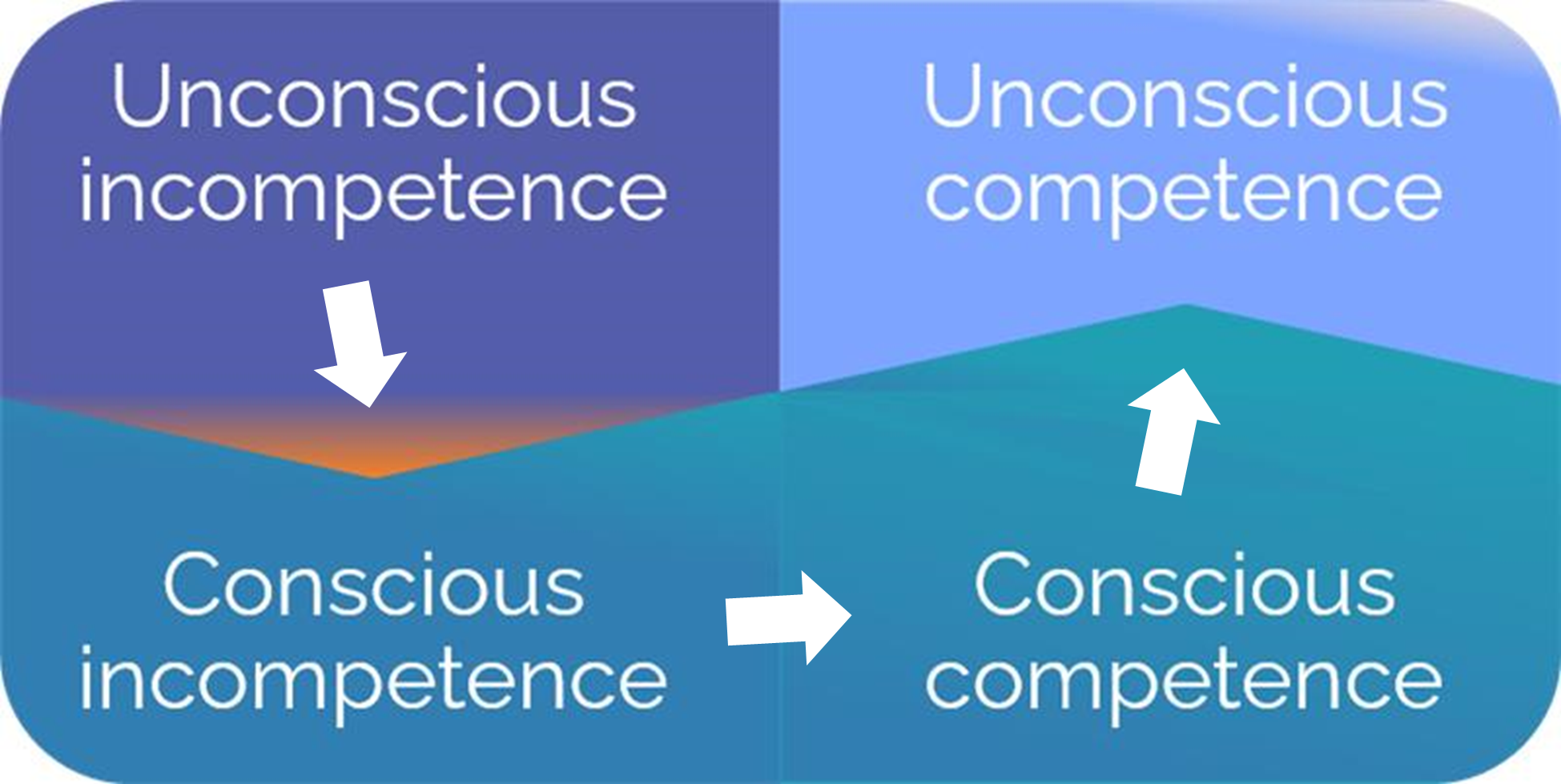 1. Unconscious incompetence – te pō me te haeata
People who have not realised there is anything they need to learn need a wake-up call. To motivate a new learner, we need to help them realise what is in it for them.
Suitable solutions?
Video or animation – Have you ever? Have you seen? News reports animation
Quiz – Can you…
2. Conscious incompetence – te take o te maunga
People who know what the goal is, but are not there yet, often find task-focused, step-by-step guidance helpful as they develop new skills. They need a clear roadmap for the journey, and instructions that are just detailed enough to keep them on track. It is important not to overwhelm them with unnecessary details.
Suitable solutions?
Videos and animations
E-learning modules
Workshops
Formative quizzes
Coaching sessions (teina)
Mentoring programmes (teina)
Blended learning programme
3. Conscious competence – te tahataha o te maunga
People who have recently gained a new skill need opportunities to practice, and often encouragement and support. Moving from 'I can do it!' to 'I do it as if it's an instinct' can be a real challenge, and this is often where initiatives fail for a lack of support to people after training. Peer support, coaching, mentoring, and performance support tools all have important roles to play here. People at this stage of learning also often make great coaches for learners, because they have just learned the skill themselves, so they have a greater ability to help new learners through the tricky bits, where experts may go too deep, too fast.
Suitable solutions?
Peer support sessions
Mentoring programmes (tuakana or teina)
Coaching sessions (tuakana or teina)
Job support tools
4. Unconscious competence – te tihi o te maunga me te ao mārama
Once someone is able to do their work without conscious effort, development needs to continue. Often, when these people are included in the learning process as mentors or coaches, it helps to maintain their skills and keep them abreast of new developments.
Suitable solutions?
Peer support sessions
Mentoring programmes (tuakana)
Coaching sessions (tuakana)
Reference guides
[1] Walker, Piripi & Huriana Raven (eds) 2006. Te Tū a Te Toka: He Ieretanga nō ngā Tai e Whā. Te Whanga-nui-a-Tara: Toi Māori Aotearoa.