Using learning to make technology projects stick
Deloitte's recent "The nine trends reshaping government in 2023"  report speaks of silos inside government shifting to collaborative ecosystems. Driven by trends such as accelerated technology and the rise of networked power, it describes how governments around the world are tailoring public services, bridging data networks and moving to fluid workforce models.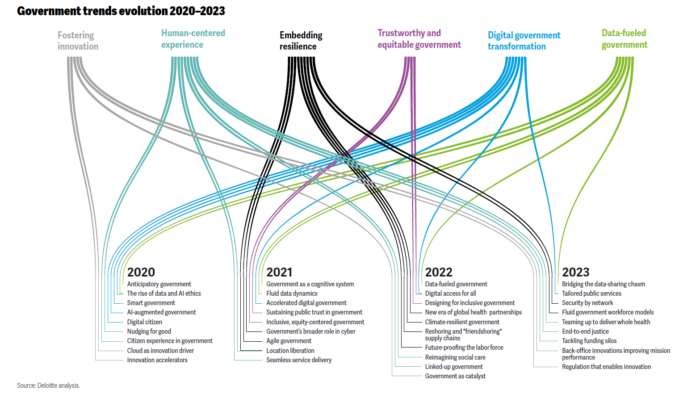 Source: https://www.deloitte.com/global/en/our-thinking/insights/industry/government-public-services/government-trends/2023/cross-agency-collaboration.html
It's hard to think of any of these initiatives that are not dependent on the effective introduction of new and improved technology systems. The corporate space is no different; hybrid workplaces, the global skills shortage, the future of work, and the great resignation all see corporates looking to technology to solve their business problems. 
None of this effort though delivers value unless the vision for change sticks. Technology itself is not a solution. It's a means to an end, and that end is people thinking and acting differently. And that's the sting in the tail. How do you maximise impact so that the original rationale for the technological change actually comes about? 
If you're uncomfortable about too much 'digital' and not enough 'transformation' in Digital Transformation, you're not alone. We've seen numerous technology projects deliver a new system, without changing the working lives of people in a positive way. And we've also seen tech projects deliver fundamental shifts in organisational performance. In this short series, we'll call out the things that we see as critical to technology projects delivering real change and transformation. Where learning has a role to play, we'll call that out too.  
At the heart of it is recognising that it is about people. He aha te mea nui o te ao? He tangata he tangata he tangata!  
"Culture eats strategy for breakfast" – Peter Drucker
"So feed it" – Synapsys NZ 
In this series we'll look at practical ways to leverage learning to hold the vision for change, how you structure technology/change projects for success, and how you maximise uptake. 
Author: Phil Garing is Managing Director of Synapsys N.Z. Ltd. and leads strategic consulting services