In 2021, New Zealand was the host for APEC– a year-long, high-level diplomatic conference that would showcase New Zealand on the international stage. COVID-19 changed the game, with all interactions needing to move to an online platform on short notice. The APEC NZ team needed to move fast, not only taking the APEC – Asia-Pacific Economic Cooperation experience online, but also taking the chance to enhance New Zealand's international reputation and represent New Zealand's bicultural society on the world stage. 
Our consultant, Maire Smith, filled the role of the learning and development manager, working with the leaders of all the APEC teams to understand the learning needs of the staff and delegates, creating a wide range of resources, including a guide to help them represent bicultural New Zealand by appropriately incorporating tikanga and Māori concepts. 
Read below how Maire described her experience of working for APEC 2021: 
Maire: One of the things we needed to do was to figure out how to represent the bicultural nature of New Zealand, rather than being perceived as a Pākehā country. This presented a challenge given that the official language of APEC is English.  
We had to demonstrate respect for the mana of te reo Māori and the Treaty of Waitangi while keeping English as the language of the conference. We needed New Zealand diplomats, CEOs, and other public figures who would be speaking at APEC on behalf of the country to be able to represent New Zealand as a bicultural nation, and the solution needed to be simple and developed rapidly.  
To achieve this, I worked with the Principal Adviser Māori, Taria Tahana, and Māori cultural consultant, Eruera Keeper, to develop a toolkit for New Zealand APEC delegates. 
Pic.1 – Example of APEC 2021 toolkit pages. 
We created the toolkit in the form of a handy document that would be easy to understand and could be developed quickly. In our toolkit we focused on a few key concepts.  
One of the tikanga we looked at was how to introduce yourself in English in a way that shows respect for tikanga (Māori custom). In te ao Māori you often start an introduction with where you're from instead of who you are. Recognising the whenua (land) where your family comes from first shows respect for the land and for whakapapa. (Personally, I see it as also being really human and very good for building connection in general.) 
Every culture has unique experiences reflected in their language. Translating metaphors and proverbs between English and te reo Māori is not straightforward, as there are not always direct translations that work. So we provided explanations for some of the more commonly used Māori whakataukī (metaphors and proverbs), to help our people understand their meanings and how to use them.  
Many Māori greetings are already common in New Zealand English, so we provided instruction on how to use them correctly, including pronunciation models, to help our people use those greetings with confidence and grace.  
We illustrated the toolkit with beautiful graphics, helping to make it easier to navigate as a document and making it easier to remember. These visual representations of Māori concepts also acted to underline their importance. 
With all the work we've done, the coolest part for me was the realisation that there are many ways to create an inclusive environment for a bicultural country.  
What challenges did you face as a Pākehā while working on this project? 
Maire: I strongly believe that as a Pākehā, it's not my place to provide leadership in defining what Māori culture is. And I think it's important to recognise that Māori culture is not a monolith – it is diverse and continuously evolving.  
It's important to identify and work with Māori who can lead in this area. They have unique insights into their own culture that I just won't have. People can also be creative with their own culture in a way that is not appropriate for me as a Pākehā.  
So for me it was about listening to people like Eruera. I had ideas about what we could develop, but I made sure I listened before I talked.  
I like to think about the work we did for APEC in terms of the whakataukī: "Nāu te rourou, nāku te rourou, ka ora ai te iwi.' (With your food basket and my food basket, the people will thrive.)  For me, one of the baskets was Eruera's wealth of knowledge about Māori culture, and another was the Policy Team's understanding of the needs of the APEC delegates we were supporting, and of New Zealand. The Synapsys contribution was a third basket – how we could meet those needs fast, and effectively, staying true to the guidance we had received.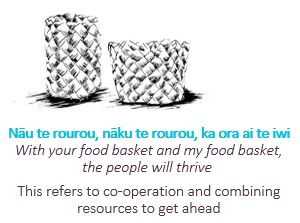 Feedback from APEC 20221 was extremely positive. 
 "I knew the work would be lumpy with intense peaks and troughs so engaging an expert consultant was a no-brainer. Finding Maire was one of my big successes for this year. "- Rachel Gollop, People Strategy and Delivery Manager 
New Zealand also received feedback that other countries at the APEC conference had really liked New Zealand's approach and that we gained mana (respect) from them for how respectful we were of our indigenous population.