The National Library's NZ Libraries Partnership Programme is supporting librarians and library services to be retained during Covid-19, at the same time ensuring librarians play a key role in supporting their communities and people seeking jobs.
A key part of this programme is upskilling librarians, so that they can provide greater support for library users coping with the disruption and change inherent in our Covid reality. Focus areas for development are as diverse as project management, digital inclusion, and Te Reo and Mātauranga Māori.
The need is real and immediate; so has been the response. Developing qualifications or producing large volumes of training material were never realistic options. Communities need support now, and librarians need development opportunities now.
The solution? Identify and make available a mix of existing learning opportunities from around the country, ranging from formal courses to snippets of digital media. If we couldn't find courses, we built out offerings from existing materials.
The key to success was mapping the myriad of opportunities to the focus areas for capability development, and then tailoring a learning platform that made it transparent and simple for librarians to find what they needed in a format that suits how they want to learn.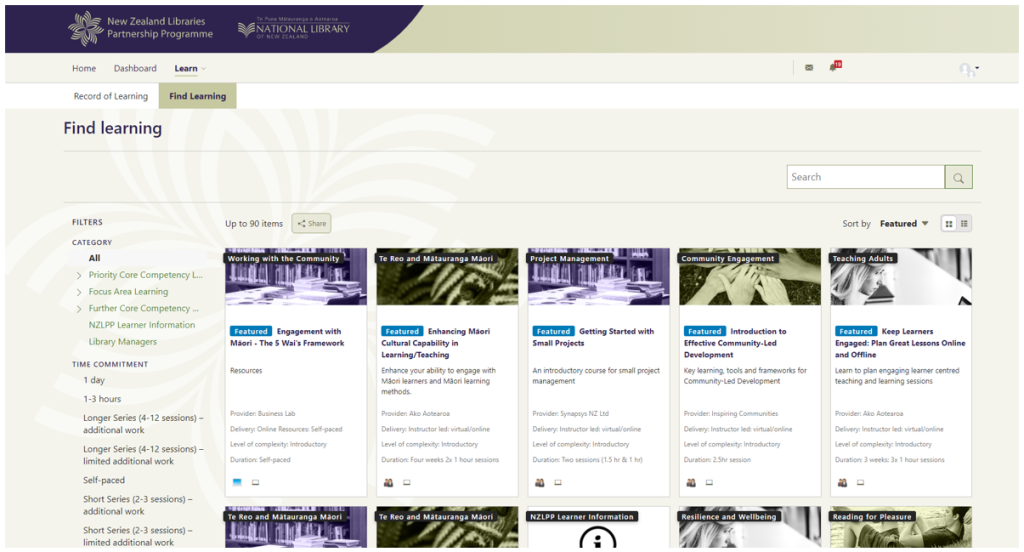 The site went live within 12 weeks with development opportunities available across all priority areas, and continues to be built out. And the uptake over 4 months:
175 librarians and 81 managers engaged, 183 enrolled in learning
1887 courses added to learning plans
194 courses completed
The top 10 offerings:
Getting Started with Small Projects
The Resilience Mindset
Engaging and Working with your Community
Crafting the Perfect Marketing Campaign for Community Engagement
Connecting with People and Communities
Working with Specific Groups in the Community
Build your Digital Literacy kete for you and your community
A Creative's (& Non-Creatives) Heaven: Using Canva To Bring Your Marketing Projects To Life
A framework for Digital Inclusion for your library community
Working with Tāngata Whenua
Much is made of the need to be agile as we respond to Covid – this project is a real example of agility in action. The next step is to look at how we can apply this model more broadly across the sector.