In the last few months, we've worked with several clients to make e-learning modules in Articulate Rise, where previously we would have used Storyline.
Right now seems a good moment to look back and think about what made Rise the best solution for these projects, how to get the most from it, and what pitfalls exist for the unwary.
Why have we used Rise?
We chose Rise for these projects because it represents an unparalleled combination of easy development and responsive design.
In developing Rise, Articulate have created an e-learning format that works for modern web users, who are used to scrolling for content, rather than navigating entirely by hyperlink. Nielsen Normal Group have an excellent article on why this is a Good Thing, and how to get it right.
Rise is by far the most user-friendly e-learning development software we've seen. Building a simple module in Rise can take less time than making a similar document in PowerPoint or Word, and make a better-looking result.
Rise also has a fantastic image library, making it easy to use illustrations to support navigation and add the emotional and visual depth that helps learners form new memories.
What are the pitfalls?
Because Rise is makes it so easy to develop great-looking content, it can be easy to forget what the e-learning is there for.

Fundamentally, e-learning is a type of self-study learning. And just like any other learning intervention, it's there for a reason. Beautiful look and feel, smooth functionality, clever presentation… None of it really matters if the learners don't learn.
Just as with any other development tool, what really matters isn't the look, it's the learning design.
Learners get the most benefit from learning activities that help them to test their own understanding of the content.
Rise makes it very easy to 'wow' the learner with slick presentation, but this can easily mask poor learning design.
How to get the most from Rise
Goals and planning
A solid learning design process starts from the project goals.
It's vital for the people creating the module to understand why the module is needed, who for, and what it's there to help them with.
The Synapsys Learning Design process makes sure that our clients' e-learning teaches the right things, to the right people, in ways that work. By putting a little time in at the start of the project, we can ensure our modules provide real value for money.
Feedback, feedback, feedback
To get the best results for learners, it's all about the feedback.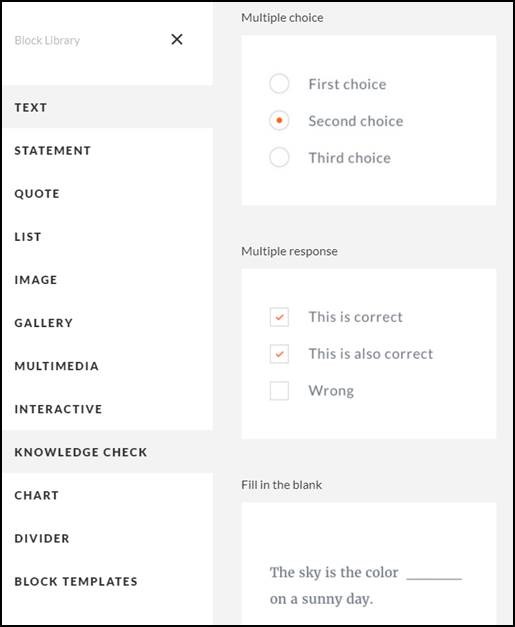 Rise has two types of interaction available: Interactives and Knowledge Checks. Interactives are deceptively named – with only one exception, the interactives are ways to package or chunk content, not ways to provide learners with meaningful interactions. They're great – but they don't provide pathways to feedback.
Powerful learning in Rise lies with the Knowledge Checks (and the sorting Interactive). These are the tools that let learners teach themselves by supporting experiential learning loops. Learners need the chance to try things out and meaningful feedback so they can have confidence in what they've learnt.
The art of the image search (and when to illustrate)
Well-chosen images help learners navigate, understand and remember.
The image library within Rise is large and varied, making it easier to find images that are relevant to your subject.
What's important here is to choose images that support the learning and that are suitable for the audience. There is no value to be found in illustrating something aimed at New Zealand farmers with images of red wooden barns or thatched cottages. Better no image than something that will alienate the learner!
Take the time to think about what you are looking for. Many photographs are tagged with conceptual and emotional keywords as well as the actual subjects.
It's well worth looking through a couple of screens of images, in Rise, or tweaking the search terms, until you have just the right picture for your purposes.
For some content, of course, generic pictures aren't suitable. This is especially the case when you need diagrams or illustrations of extremely specific situations.
We have had excellent results recently with combining searches for New Zealand specific content (like Ruapehu) with customised illustrations by our master-illustrator, Kirsty Cullen.
Have you made any modules in Rise recently?
What would your top recommendations be?